1.  How did you hear about the Fusion?
I heard about league on the news/radio the year before (2001), but Cleveland didn't have a team.  Then when Kelly bought the team, she was on the radio talking about it.  A few weeks later the coaches came to flag football and began recruiting players.  They gave out fliers for tryouts and the rest is history.
2.  What keeps you coming back to the Fusion?
I enjoy competing, I love the game.  I'm not done leaving my mark.  And I play with my friends.
3.  What's one of your favorite Fusion memories?
There's so many….but one I will always remember,  is breaking the 1000 yard mark.  Doing it with my teammates, and my best friends.  That's been a goal of mine since the 2nd year I played.
4. What does the Fusion mean to you?
It means a lot.  I've met my best friends, playing this game over the past 11 seasons.  I'm grateful to be a part of this team, I'm honored to be a part of this team.  It means a lot to play for this city, and this team, with these girls, my teammates.  I love this city, I work for this city.  I've had great success on the field, I've laid down hits and I've been laid down.  I've learned how to be a teammate, a better competitor, and a leader on this team.
5.  What is your favorite part of being on the field?
Obviously I love winning when we are on the field, but my personal favorite thing to do on the field is to stand up after a tackle and raise my right arm (first down).
6. What does it mean to you that you have been one of the few players selected for the two pro bowls?
It's been an honor to represent the Fusion and privledge to play.  I've was able to play WITH and AGAINST the best players in this league.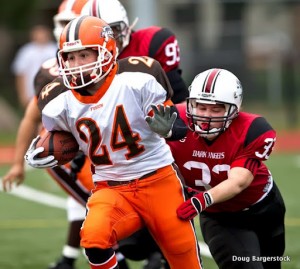 7.  What do you like to do in your spare time?
#1 Sleep #2 I love TV and #3 Shopping/movies with friends/family
8.  Do you have any pets?
Bosco – Maltese Mix 8 1/2
Barkley – Maltese Mix 12
Sammie – Yorkie 4
9.   Why do you wear the #24?
Because growing up my brother played football and he wore #42.  So I just made it backwards, and I've been rockin it ever since.
10.  Who is your favorite pro-team?
The Cleveland Cavs
11.  Who is your favorite athlete?
Kobe (Louise) Bryant
12.  Who is your favorite musical artist?
NKOTB (New Kids on the Block)
13.  If you got to meet any celebrity who would it be?
My niece Oprah.